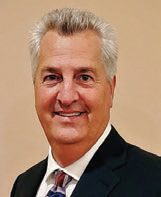 Barron Lighting Group, the parent company to Exitronix life-safety and emergency lighting, Trace-Lite indoor and outdoor commercial and industrial lighting, specialty LED commercial and decorative lighting, and Growlite indoor and greenhouse horticultural lighting, announces the addition of Tony Campbell to the Barron team as Director of Life Safety Products.
"We are thrilled to have Tony join the Barron family in the newly created role of Director of Life Safety Products," said Heather McCune, Vice President, Sales Operations of Barron Lighting Group. "Tony's extensive background in the lighting industry as well as with brand development, product strategy, product launches, market research, sales and marketing, are sure to be great assets to Barron, allowing us to continue providing our customers with a comprehensive, value-added offering of life-safety lighting solutions."
Tony will be responsible for organizing and helping facilitate the planning, production, marketing, and other tasks related to the creation and distribution of the Life Safety product family. This includes developing products through market research and combining those findings with general requirements, specifications, timetables, pricing and plans to complete development and marketing strategies.
Before joining Barron, Tony spent over 29 years in the lighting industry, 12 of which he worked at Hubbell Lighting, Inc. in the roles of Vice President, Brand Management and Director, Brand Management. Prior to his time with Hubbell Lighting, Inc., Tony worked at Acuity Brands, Inc., Devine Lighting, and H.E. Williams. Additional roles Tony has held in the lighting industry include Chairman of the Emergency Lighting Section for the National Electrical Manufacturers Association as well as Associate for the Illuminating Engineering Society of North America. Tony has a Bachelor of Science (BS) in Business Management from Park University in Kansas City, MO.