WHILE 2020 HAS BEEN A CHALLENGING YEAR for businesses, many have responded by making technology advances that they will be able to leverage for years to come. COVID-19 has forced many IT departments to rely more on digital infrastructure to keep workforces and operations running. And just as the trend toward digitalization had already begun prior to the pandemic, every indication is that it will continue far beyond the current crisis.
As the pandemic has accelerated the digital transformation, Mother Nature has reinforced the importance of redundancy. This year the United States has already run out of names for hurricanes based on the traditional format and transitioned to the Greek alphabet for the first time since 2005's devastating storm season. Simultaneously, the West Coast has been facing wildfires of historical significance – turning skies orange and producing smoke visible from the other side of the country.
It's important for electrical contractors to consider how these dynamics impact their customers' power management demands and their ability to maintain business continuity. In this article series, I'll explore some key considerations for deploying the right uninterruptible power systems (UPSs) for reliable power backup.
A Guide to a Stronger Infrastructure
The digital evolution has pushed many companies away from a centralized IT framework – meaning network closets and intermediate distribution frames (IDF) are often scattered about in different building locations or facilities. Ex- acerbated by elements of the pandemic, businesses may not have dedicated IT staff close by to respond if something happens. Yet, an IDF or network closet being knocked out of commission can cause significant problems – including financial loss and equipment losses – due to downtime from a power outage.
Having the right UPS battery backup system in place at these locations can help alleviate vulnerabilities – providing enough power to ride through brief or extended outages. However, electrical contractors should weigh multiple considerations as they tailor the right solution for a customer. Below are some tips to help guide this process and create IT networks that are resilient and reliable.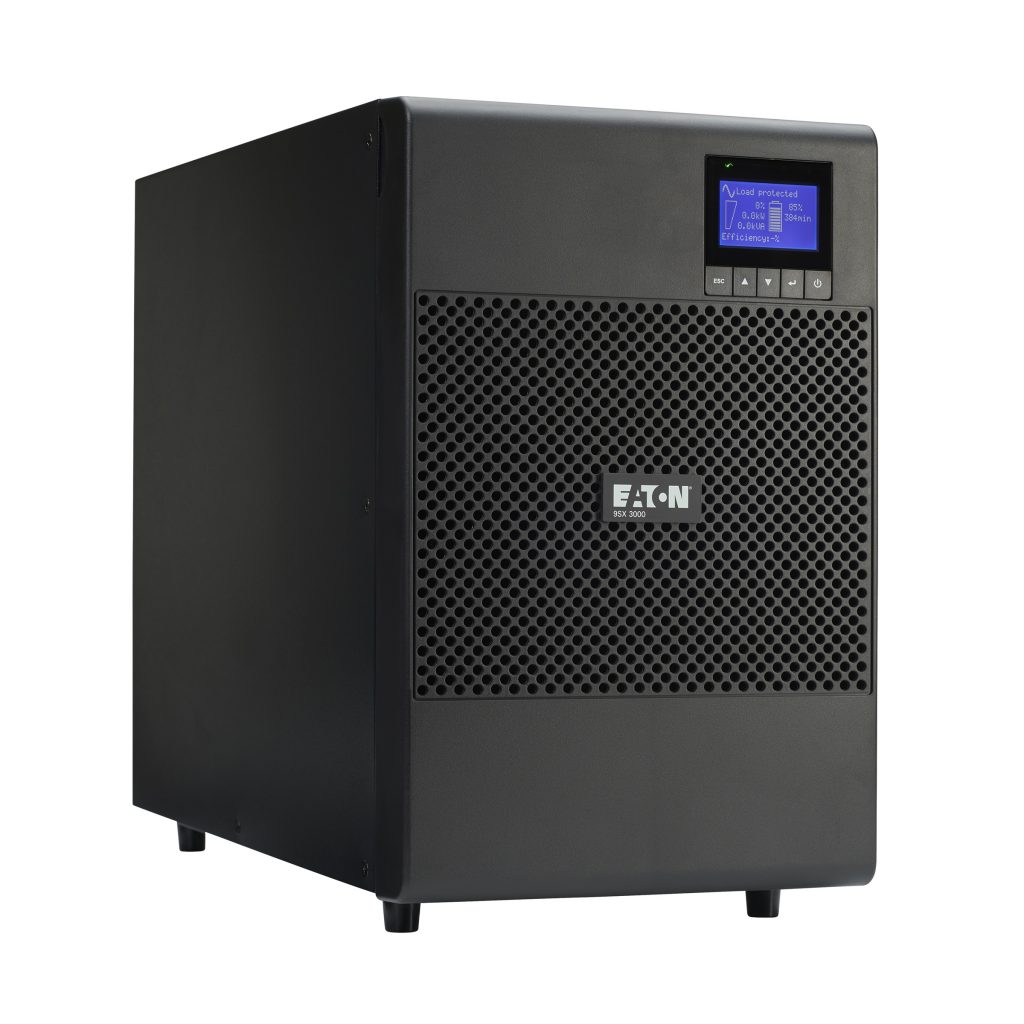 1. Consider the right UPS battery backup form factors
A UPS form factor might seem confusing – but it simply refers to how a UPS is shaped.
Rackmount UPSs are measured in U, or rack units, which is equivalent to 1.75 inches of vertical rack space. Rackmount UPSs typically come in 1U or 2U models, though some larger models are 3U. The good news with rackmount UPSs is that they slide in alongside IT equipment off the floor away from water leaks and spills. Technicians should be sure that the proper 2- or 4-post mounting hardware is included with the UPS battery backup or they will need to purchase it separately. When it comes to installing the UPS, it's almost always the heaviest component in the rack so bottom placement in the rack is recommended – especially if there are external battery packs present.
2. Evaluate battery runtime needs
The most common questions about UPSs are those about pricing and how long the batteries will last during a power outage. UPS batteries are heavy (though lithium-ion batteries are about 40% lighter than lead-acid ones) and extra battery packs can quickly increase costs. Most power interruptions are short—less than two minutes—so users usually look for approximately seven to 10 minutes of battery runtime. As a general rule, when cutting the load (equipment plugged into the UPS system) in half, the runtime could be doubled, or even tripled. For example, if a company's 1500 volt-amperes (VA) UPS lasts for five minutes at full load, it will run for approximately 15 minutes if the load was cut down to 750 VA.
In addition to adding battery packs to a UPS, another common practice is to combine the immediate power backup of a UPS with the long-term power of a generator.
3. Determine the right capacity
The first step should be to total up the wattage of all the equipment IT teams are planning to connect to the UPS and then multiply that total by 1.2 to account for future expansion. With this grand total in watts, contractors can work with IT teams to find a UPS that has enough power capacity.
A UPS battery backup is rated in both VA and watts. Watts is a measurement of real power and is the key rating. How- ever, it's easy to be fooled by VA ratings. For example, a UPS rated at 1000 VA / 900 watts provides one third more real power than one rated at 1000 VA / 600 watts even though at first glance it appears that they have the same power rating. Learn more about the difference between watts and VA.
4. Choose the correct input plug and facility site voltage
Once the correct wattage for the UPS is determined, contractors should review UPS models with an adequate power rating. In North America, the National Electrical Manufacturers Association's number for the standard wall socket is called a 5-15R. UPS models 1500 VA and below use a matching 5-15P input plug rated at 15 amps. Some sites may have a 5-20R as the standard, which ac- commodate both 5-15P and 5-20P UPS input plugs. If companies want a larger UPS system and don't have a 20- or 30-amp wall socket, then an electrician can work with them to install the right socket.
In North America, the typical office outlet delivers 120V and convenience is the primary benefit. Users could simply plug in the uninterruptible power supply and they're ready to go. While it's the most convenient method, total requirements may exceed what's available with 120V outlet. It's also possible to deploy a 120/208V split-phase UPS. Using 208V single-phase power is an even more flexible and energy efficient solution.
5. Make sure the UPS has enough output receptacles