THE FUTURE OF OUTDOOR LIGHTING can be summarized by one word and one acronym on everyone's mind: efficiency and LED. From the cost-saving homeowner to a facility's bottom line, efficient LED lighting motivates the entire outdoor lighting market — and for a good reason.
Switching to LEDs is not only way more efficient than traditional lighting sources, but it also improves sustainability and cost savings. But is that still the case in 2020? Here, we look at what's on the horizon for outdoor lighting and how LEDs are still changing the industry for the better.
Even More Efficiency
By now, everyone knows that LEDs are far more efficient than incandescent — four to five times as much to be exact. It's more versatile, color-changeable, consumes less energy, and lasts roughly 15 years, about 10 times as long as incandescent lighting.
That sounds great, but what's the next step􏰁 Even more efficiency certainly couldn't hurt, which is a huge selling point for upgrading your outdoor lighting.
However, the U.S. is still in the process of transitioning to outdoor LEDs.
Recently, a 2020 study found that light- ing accounts for 19% of the world's energy consumption. With LEDs, that could be reduced by 40%; with lighting controls, it could be reduced by 80%.
According to the U.S. Department of Energy (DOE), outdoor area lighting it- self is responsible for a huge portion of nationwide energy use — about 120 terawatt-hours of energy.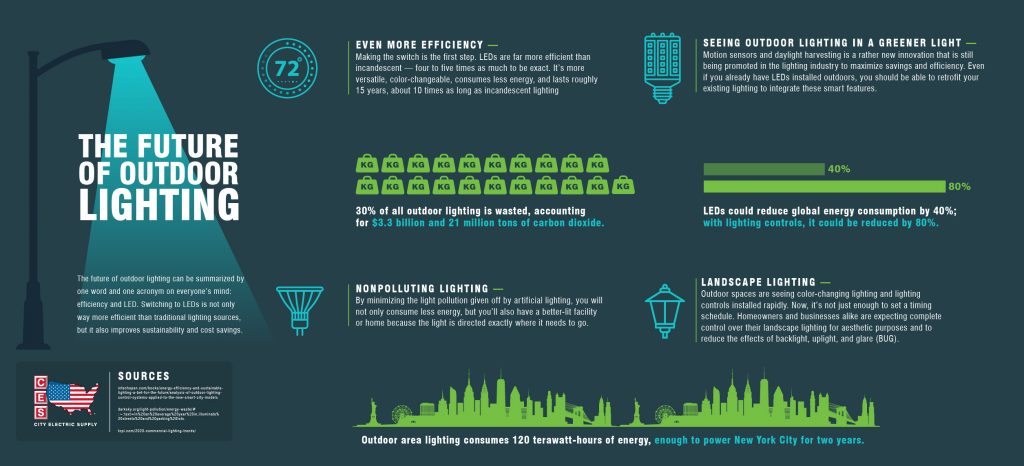 The International Dark-Sky Association (IDA) puts that number in perspective: 120 terawatt-hours is enough to power New York City for two full years. And that's just how much energy is consumed by outdoor lighting.
The IDA also estimates that 30% of all outdoor lighting in the U.S. alone is wasted, and most of that is because of lights that aren't shielded. Instead of casting the light where it needs to go — on the ground — it's uplighting the night sky. This waste alone accounts for roughly $3.3 billion and 21 million tons of carbon dioxide each year.
Nonpolluting Lighting
So, what does the future look like for outdoor lighting? First, we need to switch to LEDs.
There's going to be an even bigger focus on committing toward nonpolluting lighting in 2020 and beyond. It not only addresses the bottom line for commercial and industrial buildings, but it also focuses on sustainability and meeting more demanding building codes.
If you already have LEDs installed, how can you even measure your light pollution? Turns out that there are three things to consider: backlight, uplight, and glare (BUG). By minimizing the light pollution given off by artificial lighting at night, you will not only consume less energy, but you'll also have a better-lit facility or home because the light is directed exactly where it needs to go.
Seeing Outdoor Lighting in a Greener Light
Motion sensors and daylight harvesting is a rather new innovation that is still being promoted in the lighting industry to maximize savings and efficiency. But does this really make a difference in outdoor lighting? After all, isn't outdoor lighting only turned on at night when it's needed most?
The short answer is yes, it's absolutely worth it. Daylight harvesting, motion sensors, and even dimming capabilities are all responsive lighting technologies worth investing in.
City Electric Supply District Manager Jacob Pitts has seen these savings first- hand on countless retrofits.
"When you look at outdoor LED lighting upgrades in the commercial and industrial sectors, there's a lot of potential for energy savings as most of these fixtures are HID," he said. "Add control efficiency to that and there's a lot of watts to be saved. After all, what company doesn't want to support environmental sustainability and take advantage of cost reduction that will strengthen their bottom line?"
The best part is, even if you already have LEDs installed outdoors, you should be able to retrofit your existing lighting to integrate these smart features. At the end of the day (or night), that's going to boost your cost savings while making your building, home, or facility greener and more sustainable.
Landscape Lighting
We couldn't talk about outdoor lighting without talking about its residential applications. Outdoor lighting isn't just for building security or home alarm systems — it's also an important part of a home's landscaping.
Fortunately for electrical contractors, the shift to LED technology has benefited them greatly. Whereas before most residential and light commercial applications used low-voltage lighting, LEDs have now changed the game by making installations easier — smaller transformers, the flexibility to install larger gauge wire, and more.
What's next for landscape lighting? Outdoor spaces are seeing color-changing lighting and lighting controls installed rapidly. Now, it's not just enough to set a timing schedule. Homeowners and businesses alike are expecting complete control over their landscape lighting for aesthetic purposes and to reduce the effects of BUG.
For contractors, this represents opportunity. As outdoor lighting becomes integrated with the Internet of Things and other smart capabilities, contractors will be the ones responsible for providing both aesthetic and sustainable solutions.
Got an outdoor lighting project on your hands?
We have over 500+ branches nationwide with a knowledgeable staff ready to assist you on your next outdoor lighting project. And if you happen to already know what you want, you can shop us online and get free shipping on all orders $75 and up.
ABOUT THE AUTHOR: Brad McElroy is a Copywriter for City Electric Supply